Middle Georgia Megasite
Fort Valley, GA 31030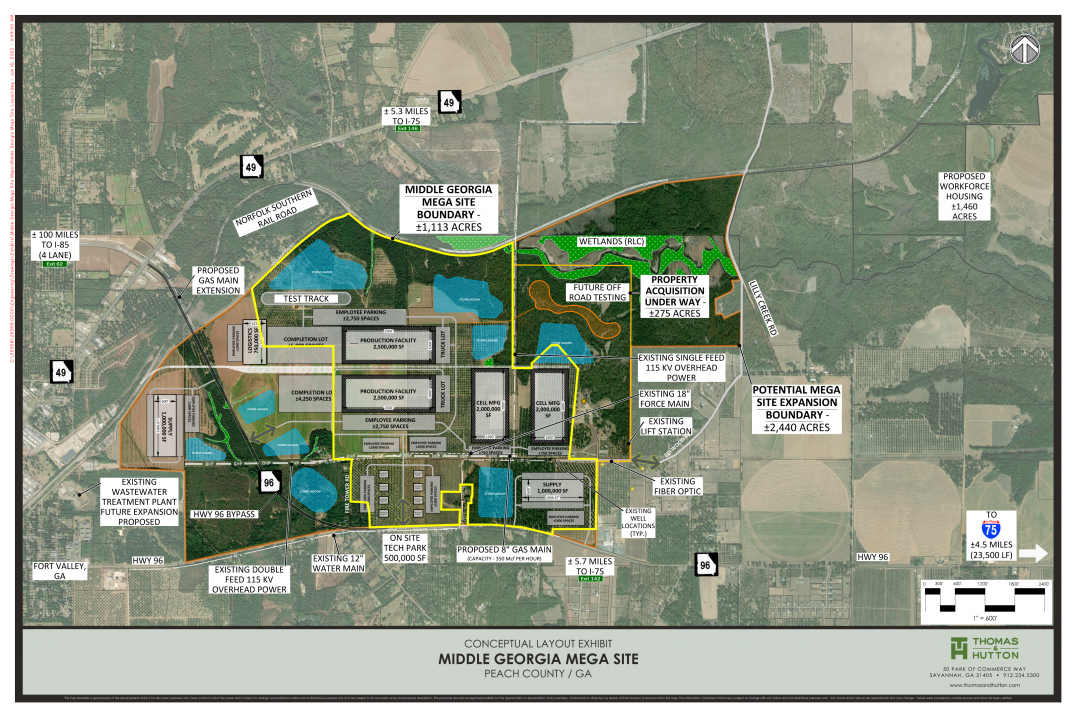 Property Details
Availability: Available for Sale
Property Type: Sites
Total Land Size (Acres): 1,113.00 Acres
Zoning: Heavy Industrial
Type of Construction: Flat, ready for development.
Former Use: Agriculture

---
Description
SITE FEATURES
1,113 acres currently owned by the Development Authority of Peach County. Topography is extremely flat and minimizes cost and time of development (1 foot contour topographic map available). Site development does not require any environmental impacts (cultural resources, threatened and endangered species, wetland deliniation, environment site assessment has been completed). Site provides for "off-road" test track and conservation area.
Latitude/Longitude 32.566902, -83.849207
READ MORE HERE (dedicated webpage highlighting additional detailed information on the Middle Georgia Megasite.
---
Transportation
Highway Access: Highway 49; Highway 341, Highway 96
Interstate Access: I-75; I-16
Airport Access: Hartsfield-Jackson Atlanta International Airport; Middle Georgia Regional Airport, Perry-Houston County Airport
Port Access: Georgia Ports Authority: Savannah, Brunswick; Intermodal: Cordele
Rail Served: Yes
Rail Access: Yes

---
Utilities
Water: Fort Valley Utility Commission - 12" main
Wastewater: Fort Valley Utility Commission - 24"
Electric: Fort Valley Utility Commission. Customer choice at 900kWh
Natural Gas: Fort Valley Utility Commission - 6" main