Hwy 49 Connector
0 Bassett at Highway 49 Connector Street | Fort Valley, GA 31030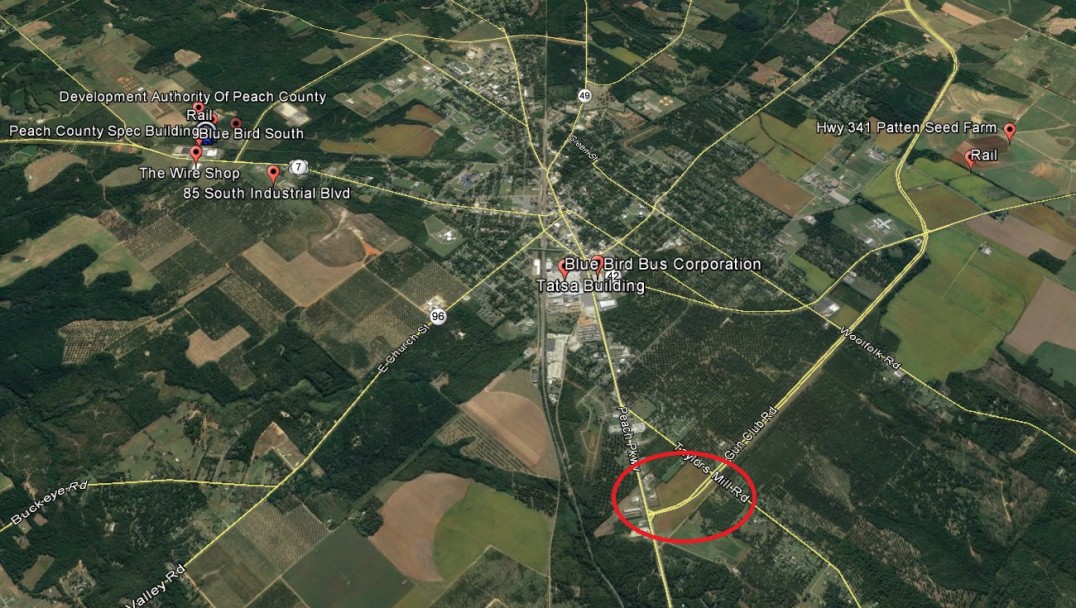 Property Details
Availability: Available for Sale or Lease
Price: Negotiable
Property Type: Sites
Total Land Size (Acres): 30.72 Acres
Within City Limits?: Yes
Zoning: Commercial
Type of Construction: Flat, shovel-ready commercial site
Former Use: Agriculture

---
Description
This flat, shovel-ready piece of property is an ideal location for commercial development with great visibility. Three separate parcels can be sold individually or combined together as needed. All three parcels have tremendous road frontage. All utilities on-site. Phase I completed. DOT approved entrances. Four-way traffic light going in at Highway 49 & Highway 49 Connector intersection. Less than 1/2 mile from Blue Bird Bus Corporation and downtown Fort Valley. Steady commuter and commercial traffic.
Parcel A - 8.05 acres with approx. 288.645 feet road frontage along Highway 49; approx. 994.199 feet along Highway 49 Connector and approx. 793.281 feet along Bassett Road
Parcel B - 7.61 acres with approx. 908.274 feet road frontage along Highway 49 Connector
Parcel C - 15.06 acres with approx. 898.878 feet road frontage along Highway 49 Connector; approx. 651.309 feet along Taylors Mill Road
Property is privately owned and/or listed with a broker who has given permission to the Development Authority of Peach County to market said property on this website database. Please call us at +1 (478) 825-3826 for more information.
---
Transportation
Highway Access: Highway 341, Highway 49, Highway 96
Interstate Access: I-75; I-16
Airport Access: Hartsfield-Jackson Atlanta International Airport; Middle Georgia Regional Airport, Perry-Houston County Airport
Port Access: Georgia Ports Authority: Savannah, Brunswick; Intermodal: Cordele
Rail Served: No
Rail Access: No

---
Utilities
Water: Fort Valley Utility Commission
Wastewater: Fort Valley Utility Commission
Electric: Fort Valley Utility Commission. Customer Choice at 900 kWh.
Natural Gas: Fort Valley Utility Commission